Archetyp onion link http://arche44al6kimgx3exey2wski5ngsqhoouqj5tpp6yqoe6ozpmiccaqd.onion/
Last update September 24, 2023
Introduction
Welcome to Archetyp, the heart of the Darknet's drug marketplace. We specialize exclusively in drugs sales, offering an assortment of illicit substances on a platform renowned for security, discretion, and user privacy. Our market primarily operates within the European Union but serves customers globally, extending our reach across all borders.
Why Archetyp?
Archetyp stands out in the darknet ecosystem because of its uncompromising dedication to safety and anonymity. Our platform adopts state-of-the-art security protocols to ensure all transactions remain confidential. Our commitment to privacy is unrivaled, and our customers trust us to provide a secure environment for their transactions.
Monero: The Standard for Privacy
Our platform exclusively accepts Monero (XMR) for transactions. Unlike many cryptocurrencies, Monero is designed with a focus on privacy and untraceability. Every Monero transaction hides the sender, receiver, and amount of the transaction. This obfuscation of transaction details ensures the utmost level of privacy for our users, making it the ideal choice for our platform.
Product Range and Global Reach
Archetyp offers a diverse range of drugs to suit various preferences. While our main operations lie within the European Union, we host vendors willing to ship products worldwide. Whether it's locally sourced cannabis from Amsterdam or exotic psychedelics from Latin America, Archetyp has you covered.
Community and Discussion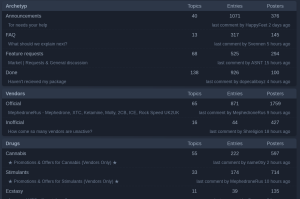 At Archetyp market, we believe in fostering a community. Our user forum is a bustling hub of discussion, predominantly about the products we offer. Users exchange experiences, reviews, and advice on various substances, enriching the marketplace with firsthand knowledge and shared experiences.
Archetyp datasheet
Archetyp top vendors
ExpressService24 – ships to Europe
ScotchAndCoca – ships to Worldwide
boomshankar – ships to Worldwide
greatwhite – ships to Worldwide
LittleBits – ships to United Kingdom
Administrator Contacts
Our dedicated team of administrators is always ready to assist. For any queries, suggestions, or concerns, you may reach out to us via the following contacts:
Email: [email protected]
PGP Key:
-----BEGIN PGP SIGNATURE-----

iQIzBAEBCgAdFiEEeI1zyim1bWVnbUaP9A9XCtziCxgFAmRyNKgACgkQ9A9XCtzi
CxiN0g/+PWwAs702QHazsYarWgI3Y0tX18ZQVbc0r5LBNJW7nZDC+5XcsjXdgmRD
+eaCsmmS6rteKaDvYsFXAekFB6mYWC7nLzqzOtRbIEthrWkcD+/BbEJyHQ5Uw4nc
vpMPj4kzhBNSIVJOUiaWby6QjWLdh0i//LDP2DB+hoisDhdm4Y/JkAAMMusNw6aD
coqLtg5xAwg0h4E2mozhgzW2QzJNCAGkffVVtG0sWHT9p0Ef7dkGbTbNC6rFJcYN
rufDHOPP29XQ6KgxWPS6ZMFa1/imFmGP29Vu8sUQhmylRIUJTZ35GJWnFoG625D9
QNOi7LQ/rhTBhXGxCeP72e47ydkPNVY6b7/pL3v96+kkNpHmfEzM2xOqthyUlwCj
CEV7K1fe+bEnlsme8tfsY2zg/2ptEm1FDaf8KqwRHKCaX4RGwYB2L3iLuh8BJ7+i
xSIbo7gvszowwjL3IOwngh767mYHOBX46Bwsswgl4lnf1k4XmHv1LeSK3UU278Br
EDdrSCNIMIQvsBWV1ivS7rnmNUbsJGdVDA/uvMaEB7WaG5t6vyc6COkkia1IfDey
7QfMc6Cxn96N9C+MNYn8lVvuFCEnp7XnESv7D2z57o/VS/Cuh+VWzpfzZO7gcK9F
xRMGOKtWdzyqYmT335eJ0mOVQ+e0z8QOaPAr9TNDfRclGoCQULc=
=zK02
-----END PGP SIGNATURE-----


Archetyp admin contact links: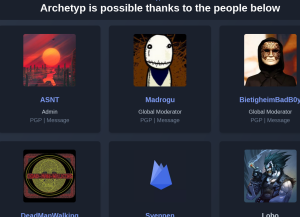 Stay safe, anonymous, and feel the freedom that Archetyp offers. Welcome to your one-stop-shop for everything, welcome to Archetyp.